There are many things on which we pride ourselves: outstanding Ofsted reports, exceptional results, sporting achievement, the list goes on. Whatever the test, central to every student's success is the quality of Teaching & Learning, both inside and outside of the classroom.
At King's we aim to nurture the whole student; academic, physical, emotional and spiritual. We also aim to support each and every individual so they have every opportunity to reach their potential.
Here you can find out about the wider scope of teaching and learning such as our Commission on Learning, and Gifted & Talented.
The King's Learner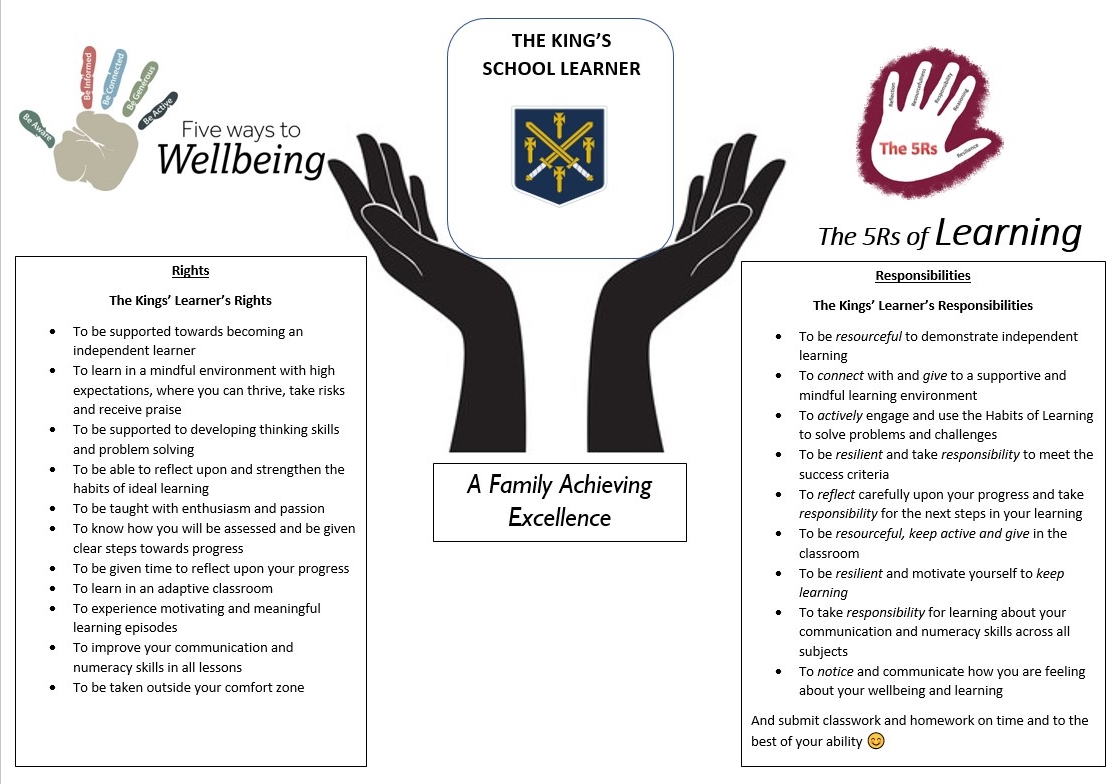 At the heart of The King's Learner sits the 5Rs Hand of Learning and the 5 Ways to Wellbeing Hand. Our students have been explicitly taught and trained in how these strategies can help them be successful and healthy through Learn to Learn sessions for some time. Packaging them together shows the importance of the two working together. Both the left and the right hand must become a team for students to be at their best.
The Rights of the Learner are also made very clear within The King's Learner. These rights are our school's Golden Threads of Learning: those strands of learner that the school's staff identified as being the most important to our own students at King's and that we use to plan and evaluate the quality of education within a classroom. These are now shared explicitly with our students as their rights.
The Kings' Learner's Rights
To be supported towards becoming an independent learner;
To learn in a mindful environment with high expectations, where you can thrive, take risks and receive praise;
To be supported to developing thinking and problem-solving skills;
To be able to reflect upon and strengthen the habits of ideal learning;
To be taught with enthusiasm and passion;
To know how you will be assessed and be given clear steps towards progress;
To be given time to reflect upon your progress;
To learn in an adaptive classroom;
To experience motivating and meaningful learning episodes;
To improve your communication and numeracy skills in all lessons;
To be taken outside your comfort zone.
Now, as we all know, with rights come the Responsibilities of Learners. These responsibilities are now a blend of the academic and wellbeing.
The Kings' Learner's Responsibilities
To be resourceful to demonstrate independent learning;
To connect with and give to a supportive and mindful environment;
To actively engage and use the Habits of Learning to solve problems and challenges;
To be resilient and take responsibility to meet the success criteria;
To reflect carefully upon your progress and take responsibility for the next steps in your learning;
To be resourceful, keep active and give and be thankful;
To be resilient and motivate yourself to keep learning;
To take responsibility for learning about your communication and numeracy skills across all subjects;
To notice and communicate how you are feeling about your wellbeing and learning;
And to submit classwork and homework on time and to the best of your ability!
So the message is clear. At King's, the link between learning and wellbeing is critical, and that there is a partnership between teachers and their students.
Student Commission 2021-22
This continues to be an integral part of developing effective skills and attributes of learning, and it is now being designed to integrate the 5Rs of Learning and 5 Ways to Wellbeing. It is delivered by the Senior and Pastoral Prefects on a Tuesday morning to all Year 7, 8 and 9 students. The prefects teach and use a range of interactive resources to make the students think about and apply the 5Rs to their subjects and to develop the tools for positive wellbeing. In conjunction with this, a new student-focused 'hands' logo (top of page) has been designed by Year 13 student Vivien Lee, which represents the inclusiveness of the school and the relationship between learning and wellbeing. The programme is being adapted and reviewed with the continuing needs and challenges that COVID-19 has created. The key philosophy of student delivery and collaboration between students and teachers remains and this has enabled the KS3 students and prefects to benefit from the sessions. The prefects develop leadership and presentation skills from delivering a weekly session to a group of 30 students.
At present there are over 150 students involved in the Student Commission programme.
Innovators: Learning Pathways
This year, the Innovator group is focussing on the development of subject learning pathways, to enable students to understand the development of key knowledge and skills as they progress from Years 7 to 13. Students have been selected from Years 8 to 13 to be part of the group. The Year 12 and 13 students lead the sessions and have collaborated with teachers to further enhance their understanding of the learning journey within specific subjects. The groups have met regularly as year groups, subject groups and as a whole group to discuss and develop the pathways. Once the draft pathways have been developed they will be presented to the subject areas and after feedback and further amendments they will then be printed and displayed in classrooms / subject areas. The process will continue throughout the year, with the cascading of the knowledge and skills of the learning journey design to other subject areas. At present, groups are designing Geography, Biology, Chemistry and Physics pathways.
Mentors
The aim of the Mentoring programme is to enable a number of students in the school to be given additional time and to have a regular contact link with another student. The key areas of mentoring are to develop and improve learning skills, such as organisation, homework, planning; to provide students with a role model and this may be used linked to behaviour issues, lack of confidence, friendship problems, and finally to help with academic progress. The mentees were selected by the Academic Heads of Year from Years 7-11 and by the Pupil Premium Coordinator and Learning Support.
The Mentors have been selected from Year 12 to enable them to take a full role within the school and to develop their leadership and communication skills. The programme was launched in assembly at the start of the academic year and then applications forms were completed. Eighty-five Year 12 students are now on the mentoring programme and meet with their mentee once a week in an allocated mentor room. This year there is a growing need to provide reading mentors to enable some students to have a regular slot with their mentor to develop their reading skills, to enable them to progress in all aspects of their school life. A new reading scheme is to be used and will be delivered alongside the Learning Support accelerated reading scheme.
Staff Commission on Learning
In 2021-2022 three staff hubs have been working on our three School Improvement Targets, these being related to:
Retrieval. Helping learners to regularly re-visit prior learning through low stakes quizzes and engaging activities. Think of this as ensuring we revise as we go, checking that learning is in the long-term memory;
Tier Two vocabulary. Helping students to develop a broader, richer and academic vocabulary.