In conjunction with outside providers, the King's School offers challenging, safe, life changing and environmentally aware expeditions, which provide young people with unique experiences to develop their confidence, global understanding and their ability to manage risk.
"This photo (below) is special to me because it serves as a reminder of the friends I made on the trip, and the pride it gives me at our success as a team in such a beautiful place"

Madeira 2017
Over 18 months the students plan, prepare and execute a foreign trip of 10-20 days to another country with a challenging environment. Everything is organised by the students through the external provider under the guidance of the Kings's School staff. All our expeditions offer students a chance to experience the very best of the places we visit and with tailored schedules in place, we get the most out our time in-country.
Planning
For the 18 months leading up to the expedition students have to prepare for the expedition; improve fitness, investigate their destination, and gather any specialist equipment required. Put into groups with other students, some of whom they know well and others they would not normally work with, we create supportive teams that help to develop confidence and experience through practise expeditions and training sessions ready for their trip. In learning to working as a team, students learn self-reliance and gain bags of confidence.
Expedition
During the expedition students will undertake an adventurous phase of high activity and challenge. There are usually two phases of trekking; one short, but challenging and the other longer, more endurance trekking. As a reward for their hard work they will have a rest and relaxation phase such as stand-up paddle boarding, horse riding or white water rafting. Some excursions to Low Income and Developing Countries will also have some project work supporting a local community. There is always a cultural aspect to the expeditions as we travel through the country and work with in-country guides who offer an opportunity to make friends and cultural connections. We go in small groups of between 12 and 20 students, with a leader from an external provider, two school staff members and up to two in-country guides. All of this happens whilst experiencing a location which they may never visit again and developing their sense of adventure, challenge, responsibility and organisation - it is certainly NOT a holiday!
Montenegro 2019 (Years 10 & 11)
Expedition 2019 launched on 2 November, with the final deadline for applications and deposits on 13 November 2017.
The external provider on this occasion will be Far Frontiers, and the cost is £1,855.
Current itinerary plans include a visit to Podgorica town, a 3-5 day trek in the stunning Kucke Mountains, rafting on the Tara River in the deep Piva River Canyon, a summit challenge to 2,522m Bobotov Kuk, a visit to the Ostrog Monastery and stand-up paddle boarding in the Bay of Kotor.
Uganda 2018
This expedition will be in July 2018, and launched mid-Autumn Term 2016 for Year 12 and 13 students.
The external provider is Far Frontiers. The cost is £3,300, which includes a donation to the Ugandan charity that we will work with.
Itinerary plans include a local community project, supporting one of the poorest countries in Africa (the details of which are yet to be finalised), a 5 day trekking phase in Rwenzori Mountain National Park amongst the spectacular foothills, and walking up to the garden plots and homes of the Bakonjo people beneath the mountains towering 5000m above sea level. There's time for a safari experience in the Queen Elizabeth National Park and a boat trip on the Kazinga Channel, plus chimpanzee tracking in the Kalinzu Forest.
Madeira 2017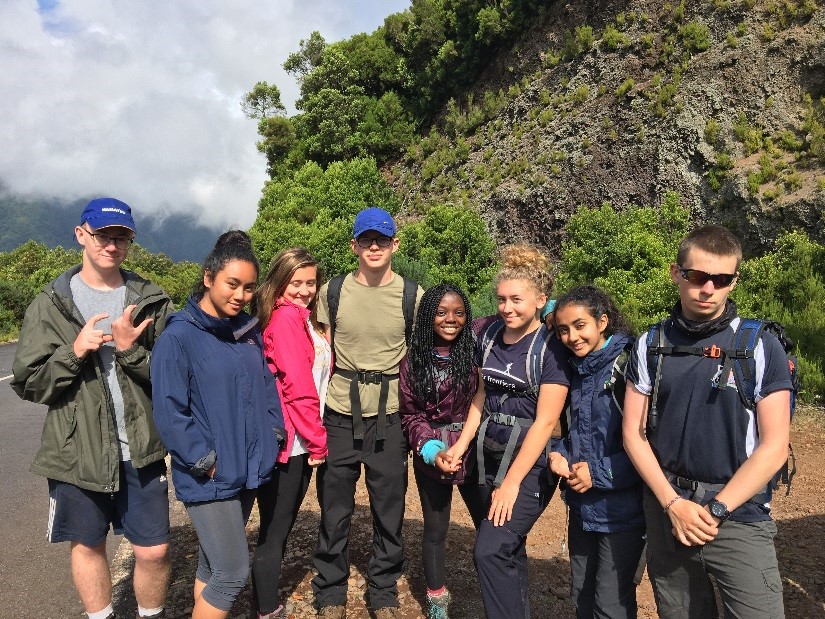 In July 2017, 52 students from Years 10 and 11 took part in an expedition to the North Atlantic island of Madeira for 10 days. Travelling in three separate teams, with a Leader from the external provider Far Frontiers, two teachers and two in-country guides, each team had an amazing adventure. This included a four-day trekking expedition following the 16th Century levadas, a visit to Encumeada UNESCO World Heritage Site of laurel forest, a summit challenge to Pico Ruivo, the highest point on the island, a paddle boarding morning and a whale and dolphin watching excursion. They stayed in hostels or at campsites, travelled in private transport and were fully catered for.
Activity Link Teacher:
Previous Expeditions:
Mongolia and China 2016
Nepal 2016
Namibia and Botswana 2014
Peru 2012
Cambodia, Laos and Thailand 2010
Malaysia 2008
Tanzania 2008
The Maya Trail (Guatemala & Bolivia) 2006
Mexico 2006
Venezuela 2006
South Africa 2004
Costa Rica 2002