Exam Candidate Information
COMPLETE Summer Examinations Timetable 2023 (GCSEs and A-Levels, as of 15 May)
Year 12 KSAS Examinations Candidate Instructions & Timetable for June 2023
---
This page is frequently updated - please check back periodically to ensure you are up-to-date
It is the responsibility of all exam candidates who are completing actual, or mock coursework, controlled assessment, non-examination assessment (NEA) or written examination components in the current academic year, to make themselves aware of the contents of this document - including all linked documents.
Should any candidate not follow these instructions, or the verbal instructions of a member of staff, this may be reported to the exam board.
Claiming ignorance of relevant guidelines and regulations is not normally accepted as a defence by exam boards.
Summer 2023 A-Level and GCSE Examinations Contingency Days:
Thursday 8 June 2023 (afternoon)
Thursday 15 June 2023 (afternoon)
Wednesday 28 June 2023
2022-23 Public Examinations Results Dates:
A-Levels: Thursday 17 August 2023
GCSEs: Thursday 24 August 2023
From the JCQ Instructions for Conducting Examinations:
The awarding bodies will designate 'contingency days' for examinations, summer 2023.
This is consistent with the qualification regulators' document Exam system contingency plan: England, Wales and Northern Ireland:
https://www.gov.uk/government/publications/exam-system-contingency-plan-england-wales-and-northern-ireland
The designation of 'contingency days' within the common examination timetable is in the event of national or significant local disruption to examinations. It is part of the awarding bodies' standard contingency planning for examinations.
In the event of national disruption to a day of examinations in summer 2023, the awarding bodies will liaise with the qualification regulators and government departments to agree the most appropriate option for managing the impact. As a last resort the affected examinations will be rescheduled. Although every effort would be taken to keep the impact to a minimum, it is possible that there could be more than one timetable date affected following the disruption, up to and including the last contingency day. Centres will be alerted if it is agreed to reschedule the examinations and the affected candidates will be expected to make themselves available in such circumstances.
The decision regarding the rescheduling of examinations will always rest with the awarding body. The centre must conduct the examination on the scheduled date unless instructed to do otherwise by the awarding body. Where candidates choose not to be available for the rescheduled examination(s) for reasons other than those traditionally covered by special consideration, they will not be eligible for enhanced grading arrangements.
Centres must therefore ensure candidates and parents are aware of the contingency arrangements so that they may take them into account when making their plans for the summer. However, the awarding bodies will not insist upon candidates being available throughout the entire timetable period as a matter of course.
The awarding bodies have designated Thursday 8 June 2023 afternoon, Thursday 15 June 2023 afternoon and Wednesday 28 June 2023 as contingency days.
The Contingency Day is not in place so that students may "catch-up" any missed examinations. It is important that all students are aware that they must sit their examinations on the time and date shown on their individual Examination Candidate Timetables (ECT).
General Exam Guidance
Behaviour and uniform rules (including those regarding make-up, jewellery, etc.) apply as if you were attending school as normal.
All morning exams start at 9.00am and all afternoon exams start at 1.30pm - please arrive at least 30 minutes before the start of your exam.
From the beginning of the 2022/2023 academic year, the Foyer door entrance is inaccessible. Entry to the Main Hall for all exams will be via the Science Block entrance.
Candidates are discouraged from having their mobile phone with them, as these are not allowed in the exam room.
It is important to note that in public examinations, if a candidate is found to have any unauthorised items on their person (even if they did not use it) this will lead to the candidate losing all marks for that examination.
Please be aware that watches are also disallowed in the exam room.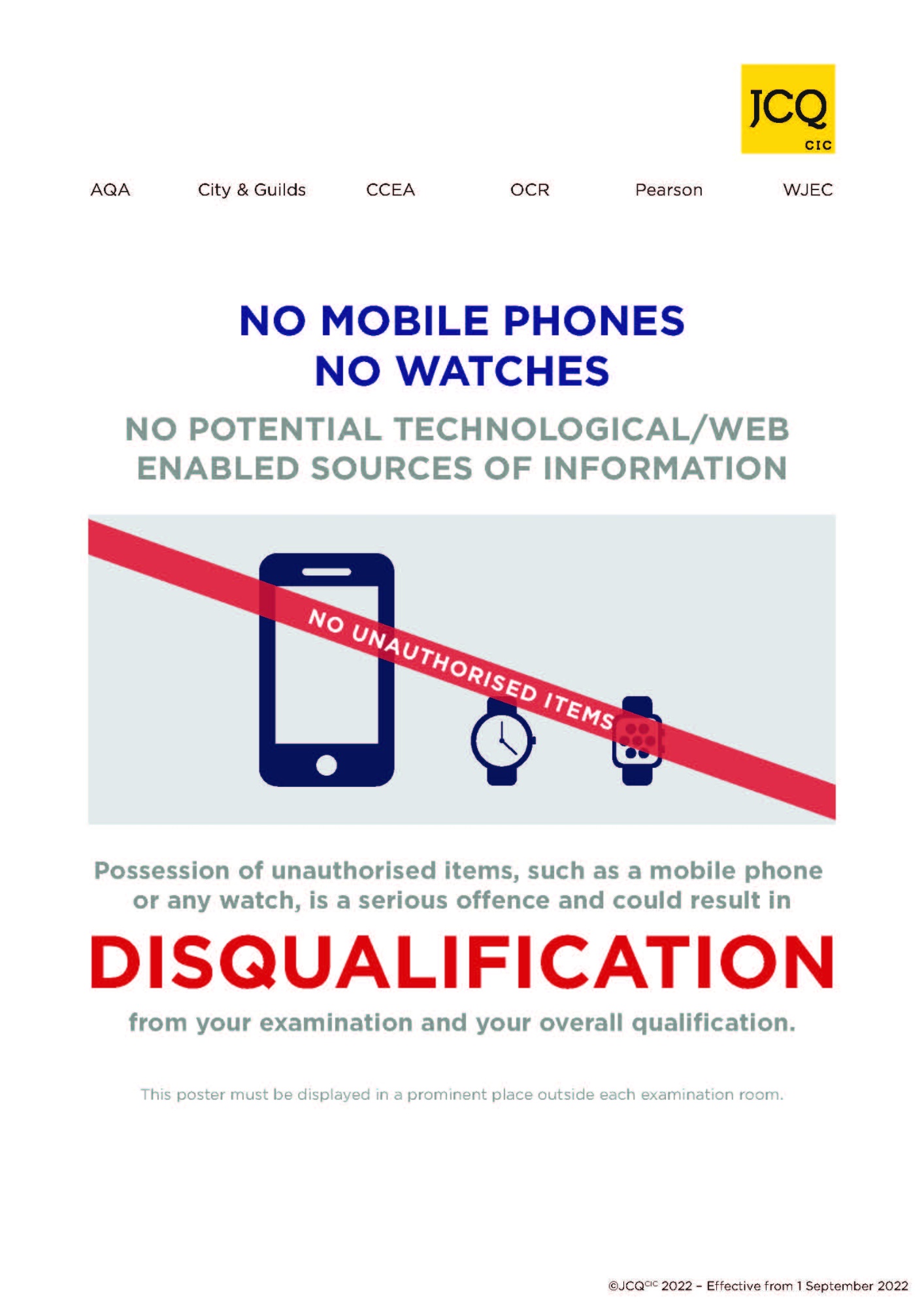 Seating plans and exam notices will be available in the Science Block stairwell/Foyer area.
The King's School has a policy that all candidates must stay for the entire duration of their paper(s).
Candidates are responsible for supplying their own equipment. We will only supply replacements in the case of candidate equipment failure - we cannot guarantee to be able to replace all equipment for all candidates, so it may be prudent to bring your own replacements.
Candidates are responsible for knowing their own candidate number.
A school swipe card / form of photographic ID must be displayed on your desk, so that we may identify you.
Food is not allowed in any exam room (unless there is a medical requirement - we will need documentary proof of this).
Only water is allowed in any exam room - the label from the bottle must be removed, and the bottle be kept on the floor.
When out of school we expect you to act responsibly and do nothing that creates unnecessary problems for members of staff, or that brings discredit on yourself or the School.
Please pay attention to all instructions given to you by any examinations staff - failure to follow instructions could lead to you being reported to the Exam Board, and potentially the loss of an award.
Exam Candidate Number
To help you remember your exam candidate number, which you are required to record on all your examinations, we allow Year 11 and Year 13 students to write this number in black marker on their ID card (example below):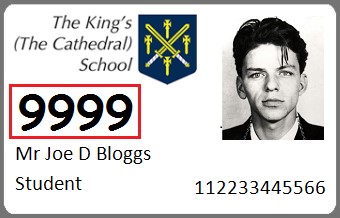 Please note:
Your candidate number must not cover any other information on your swipe card.
Your candidate number is the only thing that you may add to your swipe card.
Issues
If you are late, don't panic! Contact the School (if possible) and when you arrive, find a member of staff to bring you to the Hall.
If you are going to be absent, you must inform the Exams Office as soon as this is known. You must inform the Exams Office directly - do not leave messages with other members of staff.
Telephone: 01733 751541 ext. 371
Email: exams@kings.peterborough.sch.uk
If anything is wrong during your written examination (you feel ill, you are disturbed by noise, etc.) you must advise a member of examinations staff immediately. If there are any circumstances or issues inside or outside of school that you feel may have prevented you from performing to your best ability, you must speak to the EO / AHOY / PSO as soon as any issue becomes apparent. If we are told, we can investigate and make appropriate adjustments, where applicable. If we are not told immediately, we may be unable to make adjustments - including contacting Awarding Bodies.
Please only inform the Exams Office of any absence via telephone on 01733 751541 extension 371; all other exam queries should be made via email, to exams@kings.peterborough.sch.uk.
As per JCQ Guidelines, "It is important that students raise these issues at the time of the assessment."
Non-Examination Assessments (NEA)
Teaching staff will provide candidates with their NEA marks. Candidates may then request a review of these marks - please see Section 9.3 (NEA Mark Review) of our Examinations Policy in the Students section of our Policies page.
Please remember that, due to dates of submission to final marks to awarding bodies, this process has very strict deadlines.
Any centre assessed marks are subject to change through the awarding bodies moderation process.
Once NEA marks are submitted to, and moderated by, the awarding bodies, they cannot be reviewed.
Using Calculators
If you have any queries about which calculators are suitable, please speak to your Mathematics teacher.
2022-2023 JCQ Regulations:
Candidates may use a calculator in an examination unless prohibited by the awarding body's specification.
The instructions on the question paper will say whether calculators are allowed or not. If the instructions do not include such a statement, calculators should be treated as standard equipment and may be used by candidates.
Where the use of a calculator is allowed, candidates are responsible for making sure that their calculators meet the awarding bodies' regulations.
The instructions set out in this section apply to all examinations unless stated otherwise in an awarding body's specification.
Candidates must be told these regulations beforehand and be familiar with the 'Information for Candidates' documents.
Calculators must be:
of a size suitable for use on the desk;
either battery or solar powered;
free of lids, cases and covers which have printed instructions or formulas.
The candidate is responsible for the following:
the calculator's power supply;
the calculator's working condition;
clearing anything stored in the calculator.
Calculators must not be designed or adapted to offer any of these facilities:
language translators;
symbolic algebra manipulation;
symbolic differentiation or integration;
communication with other machines or the internet.
Calculators must not:
be borrowed from another candidate during an examination for any reason;
have retrievable information stored in them - this includes:

databanks;
dictionaries;
mathematical formulas;
text.
The new specifications from the Department for Education have a requirement that candidates must have a calculator that can calculate probabilities for a normal distribution and binomial distribution.
Casio fx-CG50 and fx-CG20 Calculators, if brought into any exam room, must be set in 'Examination Mode' - instructions to do this are displayed in the Main Foyer.
JCQ Information for Candidates
All examination candidates must make themselves aware of the contents of the following JCQ publications:
Coursework Assessments
Non-examination Assessments
On Screen Tests
Information About You and How We Use It
Using social media and examinations/assessments
Written Examinations
No Mobile Phones or Watches
Warning to Candidates
---
Contacts
Email: exams@kings.peterborough.sch.uk
Telephone: 01733 751541 ext. 371