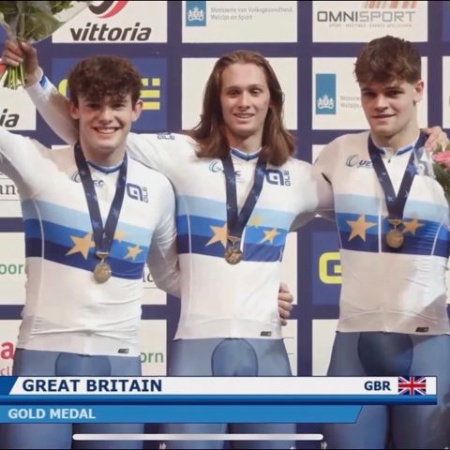 Ed Lowe (OP19) in action again in the UEC Track Junior/U23 European Championships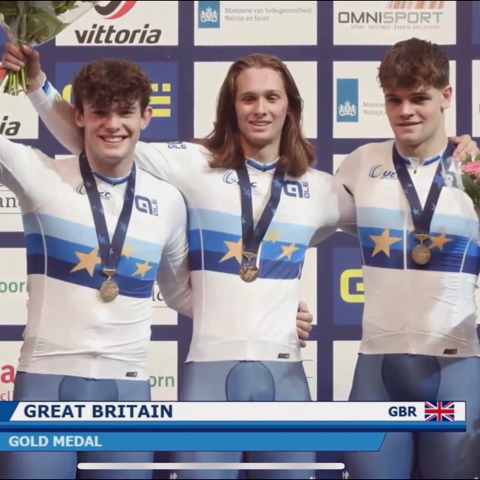 In August, Ed Lowe (pictured far left) competed as Man 1 in the GB Junior (U18) Track Sprint Team at the UEC Track Junior/U23 European Championships in Apeldoorn in Holland. The team won Gold with an outstanding performance, where they dominated in each round ahead of Germany and Russia, thus becoming Junior European Champions with a time of 44.737s, beating the National Record for Team Sprint by more than 0.4 seconds.
With this performance Ed also beat the Junior World Best time for Opening Lap by 0.3 seconds (equivalent to approximately 3 bike lengths, which - to put this into perspective - would have qualified him for the Olympic team, were he competing for any country other than Great Britain. The team decided not to participate at the World Championships in Cairo, as Egypt was still on the red list, but it was satisfying to see that the winning time there was slower than in the European Championships.

Since this result, Ed has been invited to take up a place on the Senior Great Britain & Northern Ireland Track Sprint Team, and will now become a fully paid professional athlete, living in Manchester and competing all over the world for his country. He has realised his long-held dream, and is over the moon!

In addition to this he has also gained a place at Loughborough University to study Business, with a Foundation Year for Elite Athletes with Sport Bursary. He has deferred this place as it is not recommended to study in the first year of joining the Senior team, as the training is tough.