This event, on Friday 30 September 2016, has been planned in consultation with the School Council who have been considering ways in which the students themselves can actively raise funds.
One of the principal aims of the Walk is to raise funds for the School, however in addition to this we will be making a significant contribution to the School's chosen charities for the year. These have not yet been determined for next academic year, but more details will become available when they have been confirmed. We have set an ambitious fundraising target for the students of £10,000, and whilst this seems rather high, if every student takes part and raises £10 we will meet and exceed this target.
In addition to raising the funds, this is an opportunity for the entire school community to come together in a way that we do not often have the chance to do.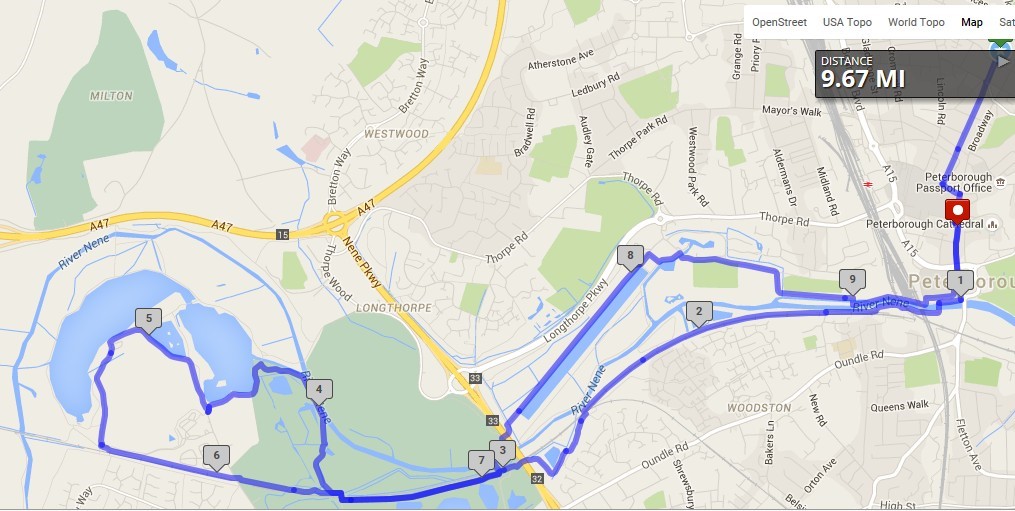 As you can see, the Walk is a circular route that takes us along paths into Ferry Meadows, where we will have lunch (point number 5 on the map). Parents and carers are very welcome to join us for lunch and indeed we would welcome offers of help with marshalling, from anyone who feels able to do so. Please contact us directly at school, if you would like to help on the day. The Walk will finish in the grounds of the Cathedral and should do so at around 3.00pm, so normal travel arrangements will not be affected.
Normal timetabled lessons will be suspended for the day and students will, of course, be able to walk in appropriate, comfortable clothing. On our other designated non-uniform days students pay £2 for the privilege of not wearing uniform, and I would hope that everyone involved is able to contribute at least this amount in sponsorship, if not significantly more. There will be prizes for the students who raise the most money in each year group, as well as a prize for the top overall fundraiser.
We expect the day to be very enjoyable, and one that contributes to the overall well-being of the students, as well as allowing the School to raise money to be used in a variety of ways, and to enhance the already outstanding experience on offer at The King's School.
We would like every student to be involved in the day, but if you feel that the identified walk would not be suitable for your child, then please get in touch, so that we can work together to find a way that allows your child to participate in this exciting event. If you do not wish your child to take part, we will offer alternative provision in school, although students will be expected to wear uniform.
If you would like to get in touch with the school to discuss any aspect of this fantastic event, then please feel free to do so.