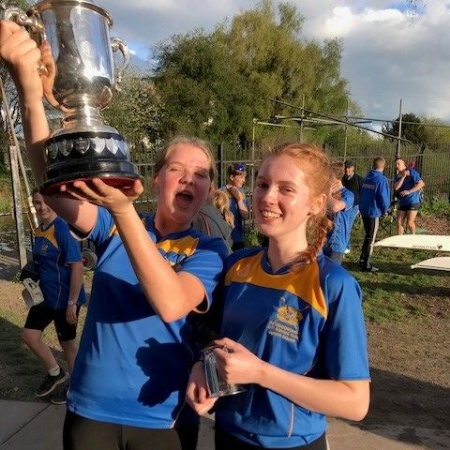 Rowing, Trampolining & Tennis News
Rowing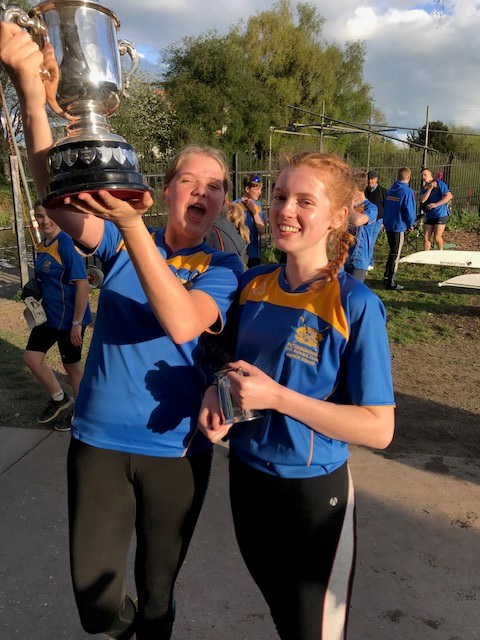 The first Peterborough Rowing Club Regatta of the season took place on Sunday 22 April at Leicester Rowing Club. After training hard throughout winter, Year 10 pupil Milly Hilton, rowing at Stroke, managed to bring the Peterborough City Rowing Club Girls' U15s coxed quad home in first (successfully adding to her U14s title at St Neots Regatta last year) to take their first championship medal of 2018. The team beat Bedford Rowing Club in the semi-final and Derwent Rowing Club by three boat lengths in the final contributing to PCRC winning the Victor Ludorum for the 2018 Leicester Regatta. She is now hoping to continue her previous success from last year in the U15s doubles at the next Regatta. Milly will be rowing again in the Nationals at Windsor on 5 May. She is pictured here with her rowing partner (Chloe Reed, Peterborough High School) with their medals and the Regatta Victor Ludorum.
Meanwhile, a select team of pupils represented the school at the final of the Peterborough Schools Indoor Rowing League this week. Leading going into this final, confidence was high and our rowers didn't let us down. Thanks to some great individual rows we picked up maximum points on the night and claimed the overall honours for the first time ever! A special well done to Hugh Ludford, Bert Papworth and Joe Beasley who finished first, second and third respectively. Nell Papworth collected the shield on behalf of the team.
Trampolining
Twenty-five pupils represented King's at the annual trampoline competition, the biggest team of any school in Peterborough. It wasn't just quantity though, as King's pupils took a string of medals individually with some great performance including golds for Sophie Bicknell, Ellen Hodges and Erin Scarfe, a silver medal for Erin Pullen and bronze medals for Natasha Hobbs, Jasmine Ogunyoye, Amy Pryce and Brogan Short. Thanks to these great results we also took overall honours and won the team competition.
Tennis
Four pairs of tennis players represented King's at the Year 10 Mixed Doubles tournament this week. In a tense final against The Peterborough School our number one pair of Katie Tasker and Daniel Wortley won both of their matches, as did our third seeds William Lamin and Charlotte Bennett, with King's eventually winning 10-6 overall to claim yet another victory.