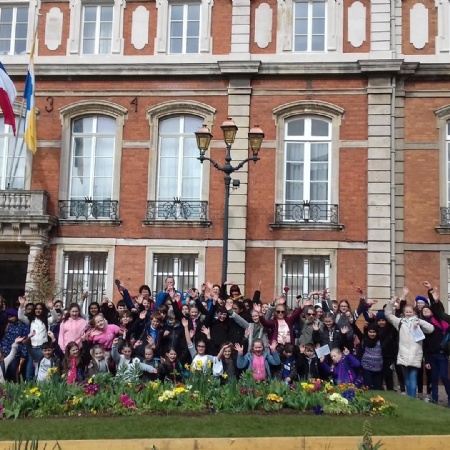 Didn't we have a lovely time, the day we went to Boulogne-sur-Mer?
On Saturday 24 March, 68 pupils from Year 7 and eight hardy members of staff travelled to northern France for a day visit to Boulogne-sur-Mer. After leaving School at 2am on the Saturday morning and crossing the Channel via the Tunnel, the group arrived in Boulogne-sur-Mer at approximately 9am French time.
The first activity of the day was sampling an authentic French breakfast in a local café. After plenty of croissants and chocolat chaud, the group then walked up to the Old Town to see the beautiful square and cobbled streets and of course, the wonderful ramparts. Time was also spent in the New Town where pupils were able to do some shopping whilst further practising their language skills.
In the afternoon, the group visited France's national aquarium, Nausicaa. After a fascinating tour of the vast array of sea life contained in the aquarium (including sharks!), the group then boarded the coach and travelled the short distance up the coast back to Calais. Pupils then spent some time in Cité Europe, a huge shopping complex next to the Tunnel terminal. Then it was back on the coach to go though the Tunnel and complete the return journey. Everyone arrived back in Peterborough exhausted but having had a fantastic day in a beautiful French city.